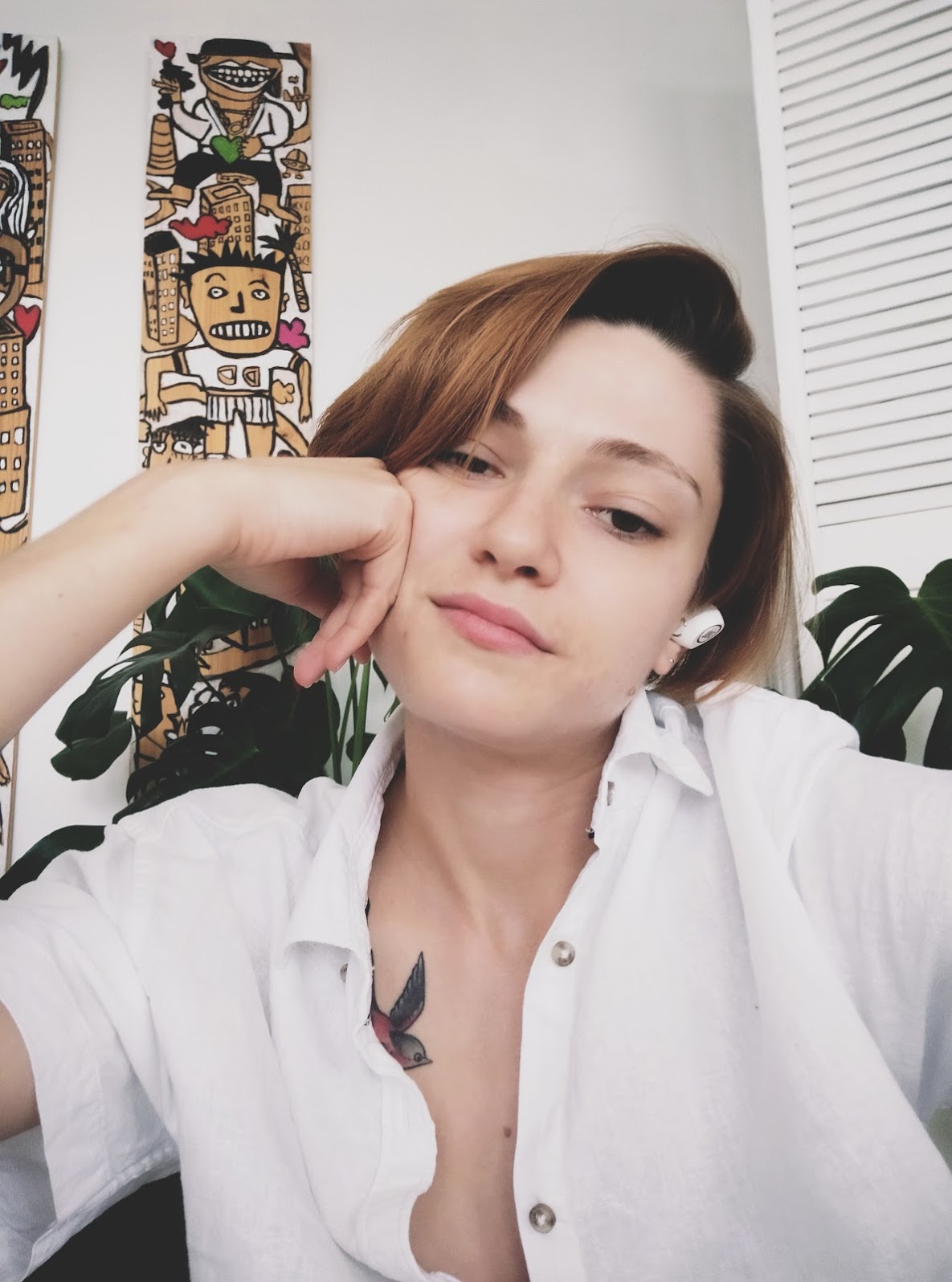 Hi!
I'm Alix Gora
Interactive Designer –
Mixed reality and audiovisual applied to cultural mediation
After an A-level in applied art, I decided to go to L'École de Design Nantes Atlantique where I completed a bachelor's degree specializing in Interaction design. After my graduation, I went to São Paulo to begin a master's degree in intercultural design. This program was in the Brazil Studio of L'École de Design Nantes Atlantique in collaboration with Mackenzie Presbyterian University. Unluckily, due to the Covid-19, my international exchange was shortened. I come back to France to end my master's degree in the media design lab of the school. Finally, I was hired by Lumeen, a French company that uses Virtual reality for social and therapeutic purposes. I'm now in charge of 360°audiovisual production and mediation.
Education
2020-2021 Master 2 International class in Media Design L'École de design Nantes Atlantique – Nantes (Fr)
2020-2021 Additional education: conceptualization and project management Ouest Creative Industry – Nantes (fr)
2019-2020 Master's degree in Intercultural Design in the Brazil studio l'École de Design Nantes Atlantique X Mackenzie Presbitarian University – São Paulo(br)
2017-2019 Bachelor's degree in Interaction Design l'École de design Nantes Atlantique – Nantes(Fr)
Work experience
Since September 2021 In charge of audiovisual production and mediation at Lumeen Lyon (fr)
March to August 2021 Intern in charge of audiovisual production at Lumeen Lyon (fr)
November 2019 to February 2020 Web design Internship at Deezign.com.br São Paulo(BR)
Since September 2018 Freelance Graphic designer France
August to October 2018 Web and graphic design Internship at NRV Toulouse (Fr)
Skills
Software: Good knowledge of Adobe software such as InDesign, Photoshop, Illustrator and Adobe XD. Also good ability on Sketch and WordPress. Everyday use of project managment applications such as G suite, Trello, Slack, Miro,…
Coding: Good knowledge of HTML. Knowledge of CSS, Arduino and Processing language.
Languages: French: Native language English: Good working knowledge Brazilian Portuguese: Basics of communication Spanish: basic of communication
For me, Interaction design doesn't mean Webdesign. I investigate interactions as a way for humans to communicate with technologies. Why? Because technologies allow us to see things differently and to experiment with creative tools. I want as a designer to constantly develop a new user experience in every part of the project that my team and I are building. I would like to have the opportunity to make researches on interaction and to develop an innovative project including emotion thanks to all the possibilities technologies give to us.
During my studies, I did various things that determine who I am today!
Design is teamwork! Managed a team is one of the principal missions of a designer. The more we are, the better! Because of my diverse knowledge, I can work and perceive issues of various types of workers.
Culture has true importance for me. Giving access to our history and work for the cultural domain is one of my biggest motivations as a designer. I think that it is important to highlight our culture and to show people how much it is meaningful.